Principle of Food Allergy Test
Novel Enzyme-linked Immunosorbent Assay –ELISA able to test the level of antibodies and your body's responses to 96 (maximum 204) international foods from a small amount of blood sample. We can test the level of IgE and IgG which trigger immediate and delayed allergic reactions respectively. This test helps you to identify the foods that cause allergic reactions so that you can avoid them. The test may also show foods you are not allergic to, these can then be added to your diet. Together with your personalized rotating diet plan and our nutritional advice, the test can prevent a variety of allergic symptoms.
We employ the most accurate and reliable technique, Enzyme-linked Immunosorbent Assay –ELISA, for our service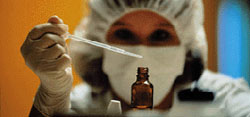 ELISA is the most up-to-date and accurate technique to test the level of IgE and IgG antibodies triggerd by different international or asian foods

ELISA is also the most reliable method to be used for food allergy test worldwide

In order to ensure highest accuracy, each sample will be testing process will be duplicated
Traditoinal skin prick test has blind spots which is not accurate and comprehensive enough to test for food allergies !
This test involves injecting potentially allergic proteins of different foods under the skin and measuring the resulting inflammation by observing the size and degree of swelling at the injection areas

Since the allergic protein is injected to the skin only, only superficial reaction can be observed, but real food allergies is not just confine to the skin, but also to the whole blood and whole body

Food allergies is not just manifested as skin inflammation

Traditoinal skin prick test only test for immediate reactions triggered by IgE antibodies. However, most food allergies symptoms are triggered by IgG and symptoms occurred from few hours to few days (i.e. delayed )

The most accurate testing is using ELISA technique to directly measure the level of IgE and IgG antibodies to confirm the roots cause and degree of food allergy
According to the US National Library of Medicine Database https://www.ncbi.nlm.nih.gov/pubmed/, the following clinical researches state that avoidance of allergic food which trigger delayed onset food allergy can help to improve a number of allergic symptoms: