Who Need Drug Test? Our drug testing service will help!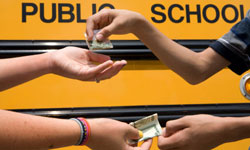 Parents who are suspecting their children are drug abuser can utilize this test for verification purpose.
Students/career applicants
Students or applicants who plan to apply for prestigious school, university or certain career requires good conduct can utilize this test as part of the proof.
If you experienced loss of consciousness, confusion, unusual excitement after a social gathering or party and suspect that you have been poisoned or drugged, this service can find out if you are exposed to any harmful or illegal drugs. The average growth rate of human hair is about1 cm per month. If we are able to test 3 cm hair of the hair, history of drug exposure in the past three months can be unveiled.
School administrators have been given more latitude from parents, communities and the courts to establish testing programs to find and help drug-abusing students.

Hair testing is a particularly effective method to meet this need. The non-invasive collection procedure coupled with the inability to adulterate the sample makes it an ideal test for uncovering a pattern of substance abuse in teens
Courts and law enforcement agencies are taking advantage of the superior capabilities of hair testing. With hair testing's accuracy, wide window of detection and flexibility as to time of collection, better decisions can be made in court cases and parole situations.
Corporations / Background check or investigation companies / Headhunter
Testing for drugs as part of the pre-employment screening is becoming a necessity. The liability, productivity and health issues surrounding drug abuse in the workplace are an important concerns for employers.
Suspicion based testing, post-accident testing and random drug testing programs are increasingly used to maintain a safe and productive workplace.
Migration or studying abroad
A hair drug testing report allowing migration consultancy, overseas schools or universities, organisations or even employers have a clearer understanding of the applicant's background, which can facilitate the application and speed up the acceptance.
Evidence and defence for court case
A hair or urine drug test report could provide further scientific supporting document as evidence or defence for various court cases, for e.g. child custody, child abuse, divorce and other criminal cases.